Discover more from I Might Could Do That!
Illustrated essays from an artist (and mom and human) on living the creative life. Currently writing and drawing about: the art of wisdom traditions and the weirdness of jellyfish.
Over 10,000 subscribers
Art Prompt #198: A Weirdo Still Life 😜
Might Could Draw Today!
Hi there!
Welcome to Week #198 of Might Could Draw Today (MCDT)! I'm here to invite you to draw with me today!
👋 If you're new here: I started MCDT in 2016 and through its various iterations, it has spurred the creation of over 20,000 pieces of art by hundreds of artists from around the world! A new art prompt is delivered every Monday and you have the week to draw from that theme however you choose.
Creative energy and motivation tend to go in cycles—sometimes we feel super jazzed to make art and sometimes we feel like we have to drag ourselves to the drawing table. It's all totally normal!
For the past couple of weeks, I've been lucky enough to find myself at the top of the cycle. I'm in that creative mode where everything seems inspiring—music sounds amazing, paintings are wondrous, and jokes are hilarious. It's an awesome place to be, and it's where some of the best art can be made.
But I also know this zone is never permanent. We gotta keep trying to draw no matter where we are in the cycle. So whether you're feeling on the up and up or the down and down, drawing in your sketchbook can get you where you want to be! Let's draw!
<3,
Christine
A Few Announcements
Monday, Nov. 28, 7–8pm EST is the next MCDT Live, our monthly virtual drawing hour available to all paid subscribers. This will be a special one to celebrate 200 Weeks of MCDT! The link to join will be emailed out to all paid subscribers on the day of the event, so upgrade here if you want to join! Save the date to your calendar now.

In the I Might Could Do That Chat, we now have a space to share our art right here in Substack! The Chat feature is currently only on the app and currently only for iOS, but Android is coming in the next month! Join the Chat and share your art from this week's prompt here!
This Week's MCDT Art Prompt
Week #198: 
Nov. 14–20, 2022
Theme: 
Weird Still Life
Today I want us all to try something new to MCDT—a still life drawing!
A still life, according to Wikipedia, is "a work of art depicting mostly inanimate subject matter, typically commonplace objects which are either natural (food, flowers, dead animals, plants, rocks, shells, etc.) or man-made (drinking glasses, books, vases, jewelry, coins, pipes, etc.)." Here are a few examples of some famous still life paintings: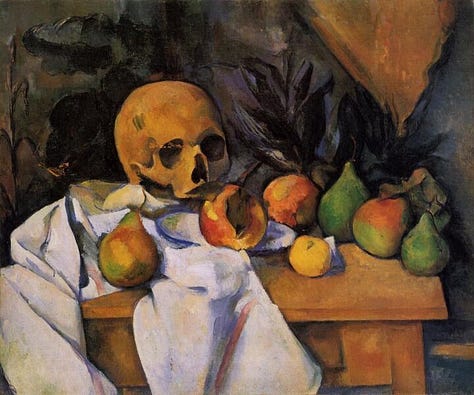 Still lifes became popular around the 16th century and tend to focus on composition and arrangement in the design of a work of art. The objects chosen to be in an artist's still life are sometimes symbolic but are generally meant to evoke a "slice of life".
And so I thought, why not make a still life of my own slice of life? My life, now that I live with a 3-year-old toddler, is full of adorable inanimate objects in playful colors, but also objects that I have no idea how they got into the house (ie. why is there a pine cone on the dinner table?)
So y'all, I took some of these things from around my house and made us a Weirdo Still Life! Why stick to drawing flowers, bowls, and fruits, when we could draw rainbow stuffies and crocheted chickens?
Your art prompt for this week is to draw the above Weirdo Still Life in whatever style you choose! You definitely do not have to draw in typical still life realism—you can draw abstractly, cartoonishly, heavy lines, no lines, color, black and white—draw however you want! And as always, draw in whatever medium you like best!
Share your art with us the MCDT community! You can post your still life drawings and say hello in our new Chat group right here in the Substack app:
Extra Paid Subscriber Goodies!