Discover more from I Might Could Do That!
Illustrated essays from an artist (and mom and human) on living the creative life. Currently writing and drawing about: the art of wisdom traditions and the weirdness of jellyfish.
Over 10,000 subscribers
27. Figuring Out the Backgrounds
Jellyfish Picture Book Process
Hey y'all!
I've been busy pluggin' away at We Are Jellyfish, and am finally ready to show you what I've worked on over the past two weeks!
Last week I started working on spread 4-5 (which actually has moved in the storyboard and is now spread 8-9… but that's a process to share another day). You can see the beginning process of this spread in the previous two posts below, where I shared the sketches, drawings, and paintings of the jellies, and also how I started experimenting with the background.
I've struggled a lot with this spread, and I began to realize that it was because, unlike all my other spreads, I was attempting to create the jellyfish separate from their background. That doesn't work with this inverse-color technique I'm using, and it doesn't work when trying to make something look translucent. I realized the background is as important as the jellyfish if I want them to look see-through!
So, I stopped worrying about the jellyfish and started working on the background. Before, I was trying to do some spot illustration thing with the 6 separate jellyfish, seen here:
But that just wasn't working! And so I realized I needed to switch it up and try something different. I also wasn't happy with the way my watercolor-pencil-invert technique was working with backgrounds in my other final art. So I decided I was going to try to digitally paint an ocean background for these jellies to live on, and THEN finalize the jellies on top of that background so that they work together.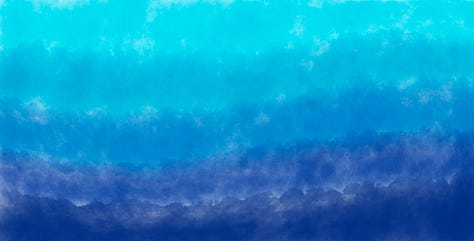 First, I decided on the basic color palette I wanted. I've revamped my storyboard with color (I'll be sharing that in the next post) so I knew the sort of blues I wanted to work with. Using Kyle's Watercolor Brushes, I painted out the colors, then smudged, fiddled, and repainted until I got it looking nice and blended.
Next, I started adding in texture, painting in water reflections and rubbing out the paint a little bit here and there.
Then, I painted in more details: water ripples, more reflections, and some little fishy shadows. Nice!
Once I was happy with the background, I turned back on my jellyfish layers and started reworking the Purple People Eater with the new background. Now that was a process, haha.
I'm glad I keep good process shots and notes, otherwise, I'd never be able to recreate this look again! I still have a little finagling I'd like to do, but overall, I think this is way better than it was before!
And finally, here's the jellyfish and background all together! Still gotta paint those other jellies.
It feels good to have finally made some good progress on this spread. It was a tough one! It's hard sometimes to know whether to keep pushing or scrap something completely. Sometimes it takes five minutes and sometimes it takes two weeks, but man, it feels so good when you land on something that works.
Welp, that's all for now—thanks for reading! If you'd like to support my work, you can buy my books, take my classes, or become a paid subscriber:
<3,
Christine